IT Policy of Nepal (2057/2067)
Objectives
To make information technology accessible to the general public and increase employment through this means.
To build a knowledge based society.
To establish knowledge based industries.
IT Policy
To declare information technology sectors a prioritized sector.
To follow a single door system for the development of information technology.
To prioritize research and development of information technology.
To create a conducive environment that will attract investment in the private sector, keeping in view the private sector's role in the development of information technology.
To provide internet facilities to all Village Development committees of the country in phases.
To render assistance to educational institutions and encourage native and foreign training as a necessity of fulfilling the requirement of qualified manpower in various fields pertaining to information technology.
To computerize the records of each governmental office and build websites for them for the flow of information.
To increase the use of computers in the private sector.
To develop physical and virtual information technology park in various places with the private sector's participation for the development of information technology.
To use information technology to promote e commerce, e education, e health, among others, and to transfer technology in rural areas.
To establish National Information Technology Centre.
To establish a national level fund by mobilizing the resources obtained from His Majesty's Government, donor agencies, and private sectors so as to contribute to research and development of information technology and other activities pertaining to it.
To establish venture capital funds with the joint participation of public and private sectors.
To include computer education in the curriculum from the school level and broaden its scope.
To establish Nepal in the global market through the use of information technology.
To draft necessary laws that provides legal sanctions to the use of information technology.
To gradually use information technology in all types of governmental activities and provide legal sanctions to its uses in such activities.
IT Policy of Nepal (2072)
Human Resource
ICT in education, research & development
Promoting public access and content development
Developing the ICT Industry Sector
ICT for Government service innovation and good governance
ICT in SMEs & promotion of e- Commerce
Telecommunications Infrastructure
Convergence of Telecommunications, ICTs and broadcasting
ICT in Agriculture
ICT in Health
ICT in Tourism
Telecommunication and ICTs in mitigating the impact of Climate Change
ICT in Environment and natural resources
Telecommunications/ICTs for natural disaster preparedness, mitigation and relief
Human Exposure to electromagnetic fields and safe disposal of electronic waste
Conformance, Interoperability and Standards
in Telecommunications/ICTs
Cloud Computing
Access to Telecommunications/ICTs for rural and remote areas
Access to Telecommunications/ICTs services for persons with disabilities and specific needs
ICTs for Youth, women and girls
Building Confidence and Security in the use of ICTs
NRB IT Policies (2068)
Ensure efficient, effective and economic IT operation by implementing appropriate IT System
Maintain well structured, secured physical layout of its IT infrastructure with proper documentation
Maintain multilevel security for Information
Implement IT system audit
Develop, implement and maintain data backup and recovery policy
Establish and maintain efficient, effective and economic Disaster Recovery (DR) System as an instrument to "Fail Safe System" with minimum down time. Also, develop and maintain Business Continuity Plan (BCP)
Develop and implement IT Outsourcing and Third Party involvement mechanism
Maintain uniform and legitimate IT infrastructure in all its offices
Provide IT directives to licensed Banks and Financial Institutions
Set a standard for IT procurement and shall be reviewed based on technological development
Promulgate "NRB IT Code of Conduct" for proper usage of NRB IT resources
Strengthen IT capacity building of employee
NRB Guidelines (2012)
IT Governance
Information Security
Information Security Education
Information Disclosure and Grievance Handling
Outsourcing Management
IT Operations
Information Systems Acquisition, Development and Implementation
Business Continuity And Disaster Recovery Planning
IS Audit
Fraud Management
Electronic Transaction Act (2063/2064)
Procedures of Electronic Record and Generation and Security of Digital Signature
To Certify Electronic Record
Verification of Digital Signature
Secured Electronic Signature and Record
Quality Standard Concerning Information Technology to be maintained by the Certifying Authority
Receipt of Acknowledgement of Electronic Record
Time of Receipt of the Electronic Record
Some Questions
What are the major focuses of IT Policy of Nepal Government?

List and explain the IT Guidelines of Nepal Rastra Bank (NRB).

What are the major focuses of IT Policy of NRB ?
Questions & Answers
Explain the development of IT policy in Nepal and highlight the current status of IT in Nepal.
Current Status:
Banking and Tele Communication Industry are moving towards to
Automation
The Government including Ministries are prioritizing usage of IT and ICT
to their daily work
Government has introduced e Governance system to the public like as:
Smart License System, National Identity Card, Digitization of Land and mapping system, etc.
The concept of SMART City is emerging
Universities are prioritized their teaching and learning methodologies
through IT and ICT
In other service sector like as Hospital, Home Ministry, Health Ministry prioritizing to use the IT and ICT.
Software companies are emerged and developed
So on……
What are the significant amendments made in the IT policy 2072 from IT policy 2067.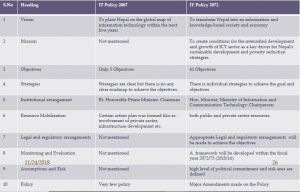 Explain the major provisions of IT policy in Nepal and suggest some improvement to be done in such policies
Suggestions
i) Deployment
ii) Implementation
iii) Evaluation time to time