Nine Easy Steps to Get Good Marks in Exam | Tips and Tricks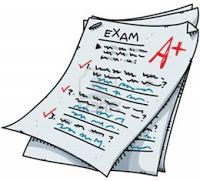 This article will help you in studying, analyzing and solving exam questions.
*Steps to Get Good Marks *
Do not eat just anything before an exam. : You should not eat any heavy meal for 3 hours before going to an exam. This is because digestion of food requires energy. When you eat food blood supply and flow of oxygen increases to stomach area. The total blood in the body is constant, so the blood that's supplied to the brain decreases. This is why you feel lazy or sleepy after eating food. This also means that your IQ or brain power decreases for a few hours (2 or 3 hours) after eating.
Do not stay awake for a long time, the night before the exam.
Read your school books and refer to more than one book for accuracy.
Do your homework. You can do homework due tomorrow today and do the ones due next week tomorrow.
Don't waste your time on computer games or anything else that would waste your precious time.
Sleep is very important to you. It makes you fresh and gives energy
If you are not optimistic and energetic, you will not do your best in your exam. You will get fewer marks than you are capable of.
Gather all your needed stuff (pen, hall ticket, etc..) before sleeping in the day just before the exam.
Do not practice for the exam in the exam itself. Do your job at its full potential at home by exercising from either your worksheets, past exam papers or any suitable source from the Internet.
Exercising is very important; as you get used to it, in addition to learning more about your exam questions pattern.
Tips to get Good Marks
Concentrate in the exam and relax.
Study in phases. Each phase should not exceed 40 minutes in time. Take a break after each phase (up to 20 minutes).
Studying while having something in mind that you want to do is a waste of time. Do everything you want first then study; as your brain will not beg you to stop studying. However, if you have nothing in mind, then don't play (for example) before studying – finish your job towards school and then enjoy in the rest of the day.
There is no shortcut to success. This is the first thing you should remember. For this reason, you have to make a great deal of effort.
Each subject has a unique way of preparing, studying and answering its questions. Some competitive exams (university's exams, for example) need a long and complex preparation, while your school exams may need preparation of one or two weeks.
Studying while containing fear inside yourself is a waste. Get rid of fear and any other possible bad feelings before studying.
A good timetable will help you. You may organize it in such a way that a long/hard subject takes more space than a short/easy subject. Remember, however, that all subjects should be studied.
Get rid of any unnecessary 'time wasting mechanisms' while studying. This includes TV, computer (only if you need Internet access), mobile phones, tablet, or even your younger brother!
Make notes while studying. Write a synopsis for your subject if you are studying it for the first time/ in the beginning of the school year. This will help you in the future examinations by allowing you to remember the contents of your subjects.
Eat well and sleep well.
Write clearly and be direct to the point. Don't write any irrelevant information. Don't wrap the right answer in a wrong answer. Write in full sentences. Don't expect the examiner to link your sentences, fill in the space or any other thing. Think that the examiner is your little brother, and you are explaining to him. Will he understand anything by just telling the keywords? NO!
Some studying programs like the GCSE, SAT, and IB might be expensive. Remember that your parents are the ones behind paying these amounts of money, and that your failure will cause them to pay more.
Make a list of all the things you need to do to study for each subject, and how long you think it will take you. Use this information to make up a study timetable. Be certain that you have given yourself all the time you think you need, plus a little extra per subject, in your study plan. Also make sure your study plan has enough space in it, so if something comes up one day, you can shuffle around your plan so that you don't lose study time.
Attempt the questions which are easy first and then the ones that are hard for you.
When you are preparing for a test or exam- forget about the actual test or a exam and just know that what you are doing exactly.
Don't be disappointed at your previous result.
*Warnings *
- Do not read in the examination hall or just before the exams.This would make you forget about the previously learnt topics.
- Never try to cheat.Be confident.Your partner may be wrong.Self help is the best help.
- Never help others before the completion of your own paper.It would eat up a lot of time.
- Never overwrite.
Tips Credit HSEB Notes for you
We Hope this article may be helpful for you. Please don't forget to comment or like it. Feel free to comment :