Opportunities come to those who work for it, not to those who ask for it.
Quote by Saurav Karki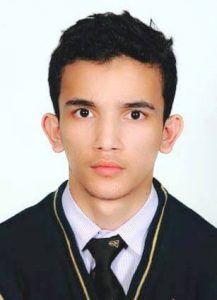 Saurav Karki, the guy who has embraced all hardships in life and still excelled. Since his birth, he has lived a physically challenging life, making him difficult to talk, stand, walk, write or do any other physical activities due to a "Cerebral Palsy". Despite all these, he became Shanker Dev Campus's topper at his Second Semester BBA examination with 3.88 GPA and has always excelled in academics. He is a well recognized local poet and a motivation for all of us. Let's take a ride at his life in his own words.
How do you define yourself as a person? As a human?As being differently abled?
I am a kind-hearted person. I am always ready to help my friends, family and anyone at any time. I'm self motivated, humble and compassionate. I'm outgoing and love sharing things, talking to people. I have a quick wit and love to laugh about everything under the sun. I prefer simplicity in everything. As calm as you think I am, I am emotional guy and sometimes I think way too much for small things.
I am a pragmatic, positive person who knows there are two sides for everything. I love writing poetry in Nepali as well as English. Since schooling, I had to grapple not only with the lack of proper study materials but also with belittling attitudes towards me – as I am "differently abled", I should narrow down my horizons. Simple opportunities would meet benign resistance. Those eyes of fake sympathy were always a hindrance. But, I have overcome my health condition, understood the intensity of hardwork and made myself independent. I, therefore hold the fire of change and challenge the stereotype of the society.
Your First Charms ?
According to my mother, I didn't cry for more than 2 hours after mine birth. Then, I started crying for about 18 hours without any break. She also said that I did not breastfeed for 18 days after birth but I was a normal healthy child as like others for 2 years of my birth. After 18 months of my birth, my brother was born. There was no progress in my development and I couldn't speak or walk or do other activities like my bother which made my parents worried. They got me to Kathmandu for the checkup. According to Dr. Upendra Devkota " भगवानलाई धन्य भन्नुहोस, यो बच्चाको शारिरिक रुपमा मात्र असर छ। मस्तिस्क को कुनै असर छैन। यो बच्चा अरुभन्दा २ वर्ष ढिलो हुन्छ तर अरुले गर्न सक्ने उसले पनि गर्छ। तीन वर्षको हुँदा बोल्छ पाच बर्ष पुगे पछी हिड्छ। अहिले पनि भन्नु हुन्छ उहाँ त भगवानकै एउटा रुप हुनुहुदो रहेछ। जस्तो भनेको त्यस्तै पुग्दैछ ".
Who is your role model? What motivates you to excel and work so hard?
My mother, Shadhana Karki, and my father, Shiva Karki who are the most genuine, caring people I have ever met. My whole life, they have helped nurture , and made me the person I am today. I'm constantly astounded by their wisdom, guidance and unconditional love unwavering patience and good nature. They stand by me and make me feel blessed.
I have grown exponentially beyond the social harassment and those pinching eyes that society looks at me for, each domination and everyone saying "No he won't be able to do it" has made me do everything, and excel at it all.
I am the live example of your academic success; you topped second semester's board at SDC. How do you take your academic achievements as? Who do you credit it to?
Success doesn't come to the one who refuses to believe in themselves. For one to succeed he must not make excuses instead he must work hard with constant determination, perseverance. He must have a mindset that opportunities come to those who work for it, not to those who ask for it. So, I see that physical challenges cannot prevent success in the event of determination to succeed combined with hardwork.
Yes, I have topped the second semester's board at SDC. Frankly, speaking, I never study to get the good grades or marks. It must be the triangulation of the dedication, hard work and luck. I always search for the practical implication of what I have learned in my life. I must give the credit to my family, teachers, seniors, friend, and well-wishers who believed me for what I can possibly do or become than how I appear.
Always a fan of your writing; how did you began to use your pen as weapons? Your favorite line from your own creation?
Thank you so much being a fan of my writing. Writing is my passion and I do what I love. If an incident hits your heart, springful words color your veins and happiness is just there like a wonderful present. Writing starts when you are sensitive towards someone, something or when your spirit travels somewhere. Yes, pen is simple yet effective self-defenses. Writing blossoms when so many questions knocks on my mind.
I began to use my pen as weapon when, in the middle of the night I felt had Pearl's in my eyes and thanks to a pen and a paper that I felt free from something that was imprisoning me. Happiness is the fiction towards imagination. Imagination coupled with happiness opens the door of creativity. The imaginary circumstances psyche help make you an innovative human being. so just keep on exploring to the edges of eternity.
Two poem by Saurav Karki:
जिन्दगी
Seasoned River
Do you think Nepal is inclined toward the disability friendly education system? What difficulties have you faced in your schooling, college and bachelors life?
In Nepal there is no any inclination toward the disability friendly education system yet. To be honest, there are different kinds of hurdles for the differently abled people in our education system. Although, our law has provision for free education for differently abled student but the implementation of it is ineffective.
During my schooling, I had to complete all the assignments like the other normal students. There is no any special support or care. I even have experience of writing exam from 9am to 6pm. Just imagine how much pain my hands bore. There is no any disabled friendly toilet in the school.
Despite these difficulties and hurdles, I dreamt to become computer engineer. but it just was a dream. I couldn't get admission in the science stream in any of the colleges of Kathmandu valley because of my physical condition. They argued that I would will face a lot of difficulties during practical examination. Many colleges didn't even talk about admission in the Management stream. They saw me as burden for them. Those situations were taking me in the way of depression.
Lastly, I met BhadraPokhrel sir, principal of Golden Gate Int'l College. Listening to me, he had offered me to study Computer science (Management stream) with 100% scholarship with proper guidance. Although they were also not in favor of me studying science stream and I was enrolled in Computer Science. I thank to GGICian's family, and friends providing me such a friendly, supportive and encouraging environment, which made my Grade 11 and 12 studies very productive and memorable. After completing my Higher School level, it was high time to go for bachelor degree. I decided to study BBA in Government College (either SDC or NCC). It was not easier for me to enroll me there. it was not easy being enrolled even if I met the academic criteria. After lots of complaining and legal tension, I finally got admission at SDC to study BBA, my desired program.
Your ideas and suggestion to Ministry of Education to introduce plans and design courses for differently abled people?
I would suggest MoE to focus upon multi-dimensional approaches to support differently abled people because differently able has no single criteria. Some needs infrastructural reformation while other needs technological assistance. Bringing every aspect of suitability in a single page needs deep internalization about how differently abled people face challenge in doing basic activities. I suggest MoE to have differently able people as a consultant or advisor in any planning activities. Regarding curriculum, the evaluation methods should be friendly for people like us. One with no hands should be evaluated on the basis of his verbal answers while one with hearing disparity should be given to write.
Your best achievements so far? A motivation drive for all of us.
I believe that different people have diverse incredible capacity for outstanding achievement. Proper family and social environment is a catalyst in one's success, and my own life experiences as differently abled individual is a testimony to that axiom.
Nonetheless, I managed to excel in the academics as evidenced by my SLC (84.88%), certificate level (73.5%) and undergraduate (CGPA 3.785). Though hard work and perseverance, I always managed to set new benchmark at every educational institution I attended and showcase that "differently abled" is just not a word. For me, the best achievement is to get enrolled for BBA at SDC. It is tough journey to everyone to get enrolled for BBA at SDC and NCC. Competition is very high. The situation I faced was same. I was told that BBA was not for me because of my disability as there are a lot of presentation and internal assessment. Some even told me that I can't study BBA and rather they recommend me to study BBS or BA. But I was commitment to make my dream true. Then I went to the DEAN office, put forward all the things I was told and Prof. Dev Raj Adhikari sir was so positive about my dream to study BBA. Since, I cannot write in the exam so he managed me the writer for Entrance Examination. Entrance exam and interview went very well. I was selected for admission in both SDC and NCC but after entrance I couldn`t get admission in both the institution just because of my disability. But Prof. Dev Raj Adhikari helped me a lot to get admissions and basically for him I gave my 100% dedication and hardwork.
This year I have completed successfully my undergraduate degree (BBA) with distinction. And the 4 years i passed in SDC was amazing. My mentors, teaching faculties, friends, juniors, seniors, support staff have helped me grow so much that words are not enough to thank them. With their support, I proved everyone who said that I cannot study BBA, that even I can do it, and I can do it better.
After all, it is not the individual achievement that has created me into the person sitting in sympathetic world today, but the accretion of life's victory and dissatisfaction, delight and distress, cheerfulness and calamity that make me "who I am".
Your voice, what do you want to say to the world?
Especially in a developing country like Nepal, with not much provision and support from government and society, for a physically disabled person like me , life is a challenge and struggle., I hope everyone will understand our condition and give a helping hand in every steps of life. I would like to encourage everyone like me that with hard work, discipline and enthusiasm you can achieve every success in life and be a role model for many physical disabled persons like us.
You can write to Saurav Karki at [email protected].