After an exhilarating performance at the Finals of The FIFA World Cup 2014 and the rising popularity of her official World Cup Song, Lala(I Dare You), the beautiful Colombian singer Shakira is the most popular people ever on Facebook. It was reported on the past few months that popularity of the Colombian singer was rising day by day and finally that rising popularity reached the top. Recently, Shakira is announced as the most popular celebrity on Facebook. She has currently hit more than 100 million likes on the popular networking site, Facebook.
The popular Colombian singer has really broken the records to be the most popular person ever in Facebook. She is now the second most liked page in Facebook after hitting over 100 million likes, only behind Facebook's own original page. She joined Facebook in 2007 and she is taking the lead. She does have a fair lead over her fellow competitors. She has taken lead over Eminem (91.9 million), Rihanna (89.1 million), Michael Jackson(76.9 million) and Katy Perry (72.5 million). Her most liked post reaching 3.6 million likes is a picture of of the singer standing in the Maracanã football stadium in Brazil, where she performed at the Closing Ceremony of The FIFA World Cup 2014 at Brazil.
This year, the Colombian singer had released her 10th album which received a positive response from the audience and was critically acclaimed by the critics. It reaced at number 14 in the UK album charts. In her native Colombia, it has received Diamond sales certification selling over 200,000 units.
After reaching an outstanding milestone on the popular networking site Facebook, when asked about her recent success, she said," I am quite honored and humbled at reaching such a milestone. My heart feels an unspeakable happiness about reaching this huge achievement because it's purely based on how much you connect with your fans and how much your fans love you back. Social networking sites like Facebook has truly helped a lot of stars like us and many others to reach unspeakable success over the years and it has also helped to minimize the large boundary created between the fans and the superstars. It has been like a bridge between us and our fans through which we can share our thoughts and feelings and also our fans can know about it and we can also know how our fans feel. We can also share our happiness and emotions through various photos or videos through posts and it keeps us connected."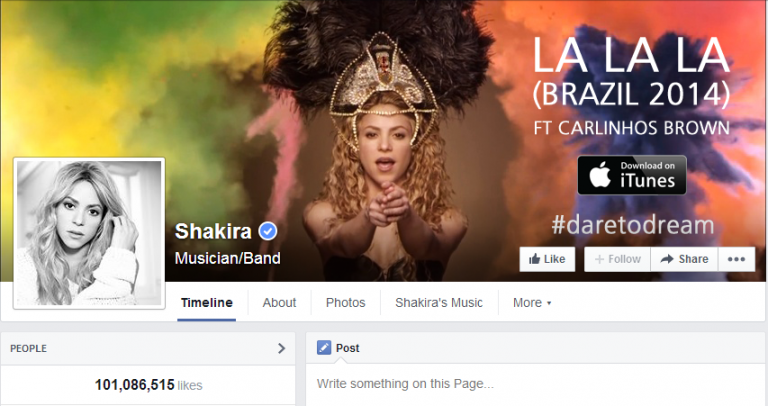 The CEO and co-founder of Facebook, Mark Zuckerberg posted on Shakira's wall saying "Congrats! What an amazing milestone for an amazing person."
100 million fans on Facebook!' wrote Shakira in a hand-written note shared on Facebook on 18 July. 'Thank you so much for joining me and propelling me on this incredible journey. I couldn't do it without you all. Much love, Shak'