This diary is the document that is used in a front office department to know about the Reservation and is normally filed by reservation assistance or officer. This diary gives a brief idea about who is the guest, how many of them are arriving, what is the type of room they want, what is the room no. that is allocated and for how many night they are staying?
This diary is normally found in front office section and front office Manager Room. To have a check in reservation activities as well as conduct reservation while walk in guest arrive. The basic purpose of hotel diary are as follow:
To know the number of reservation that are conducted.
To get a brief idea about type of rooms as well as number of room that are requested.
To verify and allocate room no. to guest.
To find out who are the actual source of reservation that are giving business to our organization.
To have a clear idea about date of booking and mode of booking.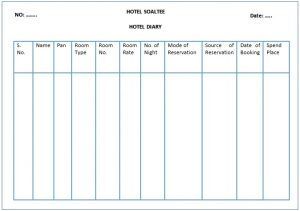 Specimen of Hotel Diary